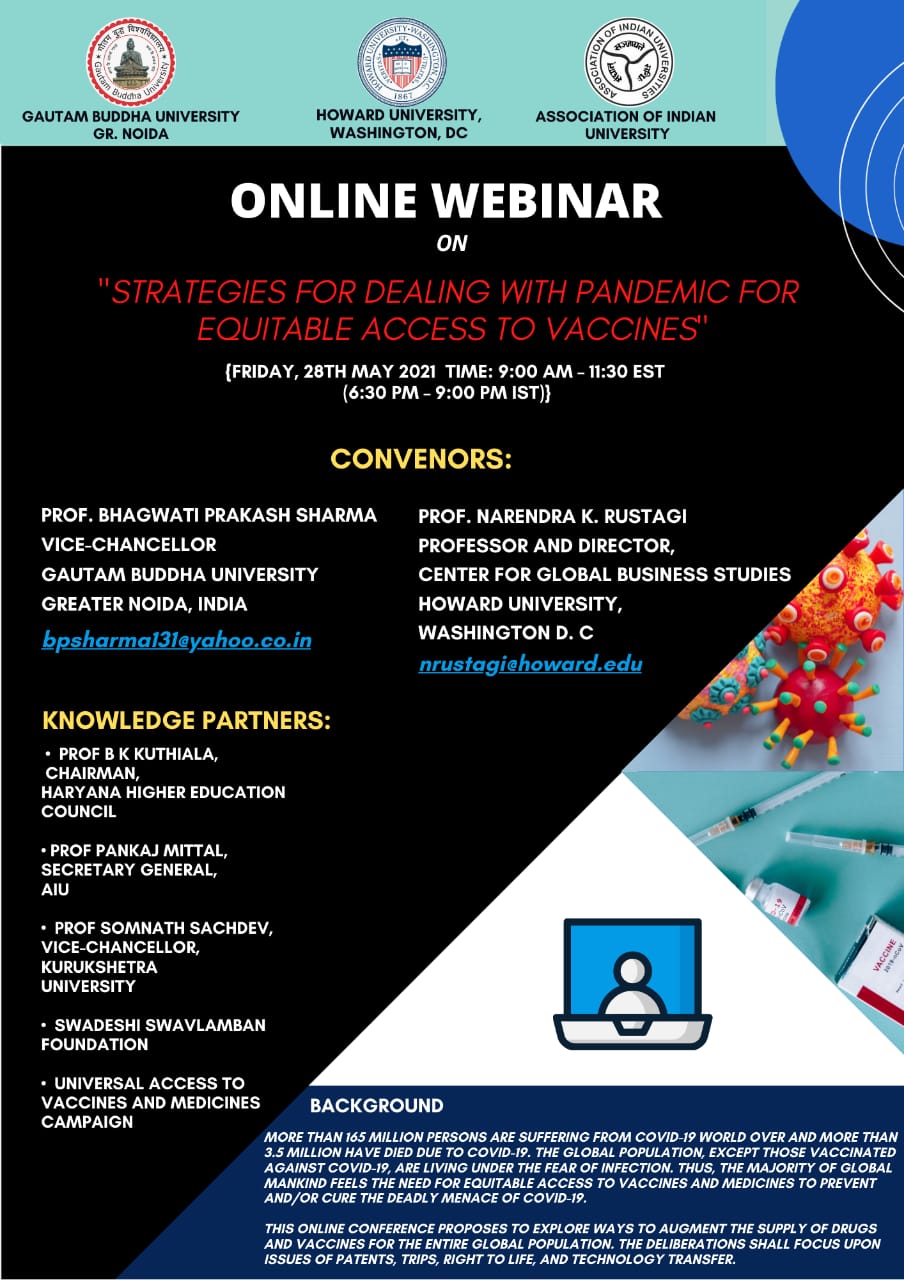 Download Links:
Information Brochure
Registration Links:
Register Here
A webinar on Strategies For Dealing With Pandemic For Equitable Access To Vaccines.
28-05-2021
This is to invite your honored self and request to register for this online webinar on Strategy for Universal Access to Vaccines and Medicines against Covid-19. The webinar would be addressed inter allia by luminaries from India and US, including the former Honorable Chairman USIBC Ron Somers, Chairperson, Women Ambassadors' Foundation, Noble Laureate, American Congressman.
Key Luminaries in the webinar on May 28:
Mr. Ron Somers India First Group, LLC, and former president, U.S. - India Business Council (2004-14).
Ambassador Pradip Kapur, author of the best selling book, "Beyond the COVID-19 Pandemic: Envisioning the Future of Healthcare," .
Ambassador Arikana Chihombori-Quao, former Ambassador of African Union in Washington, D.C..
Prof. Marilyn Sepocle, President, The Women Ambassadors Foundation, and Professor at Howard University. .
Prof. Pankaj Mittal, Secretary-General, Association of Indian Universities..
Prof. B.K. Kathiala, Chairman, Haryana Higher Education Council..
Prof. Somnath Sachdev, Secretary, Swadeshi Swavlamban Nyas..
Dr. J. A. Jayapal, National President, Indian Medical Association.
Besides the above consent is expected from:-
An Australian Member of Parliament,
President, Down State Illinois Chapter of the American Association of Physician of Indian Origin.
Topic: Online Webinar on Strategies for dealing with Pandemic for Equitable Access to Vaccines
Time: May 28, 2021 06:15 PM Mumbai, Kolkata, New Delhi
Join Zoom Meeting
https://us02web.zoom.us/j/81138083780?pwd=WUV0M2dLckxNYVBqRXgxQ3AzbCtJUT09
Meeting ID: 811 3808 3780
Passcode: 156370