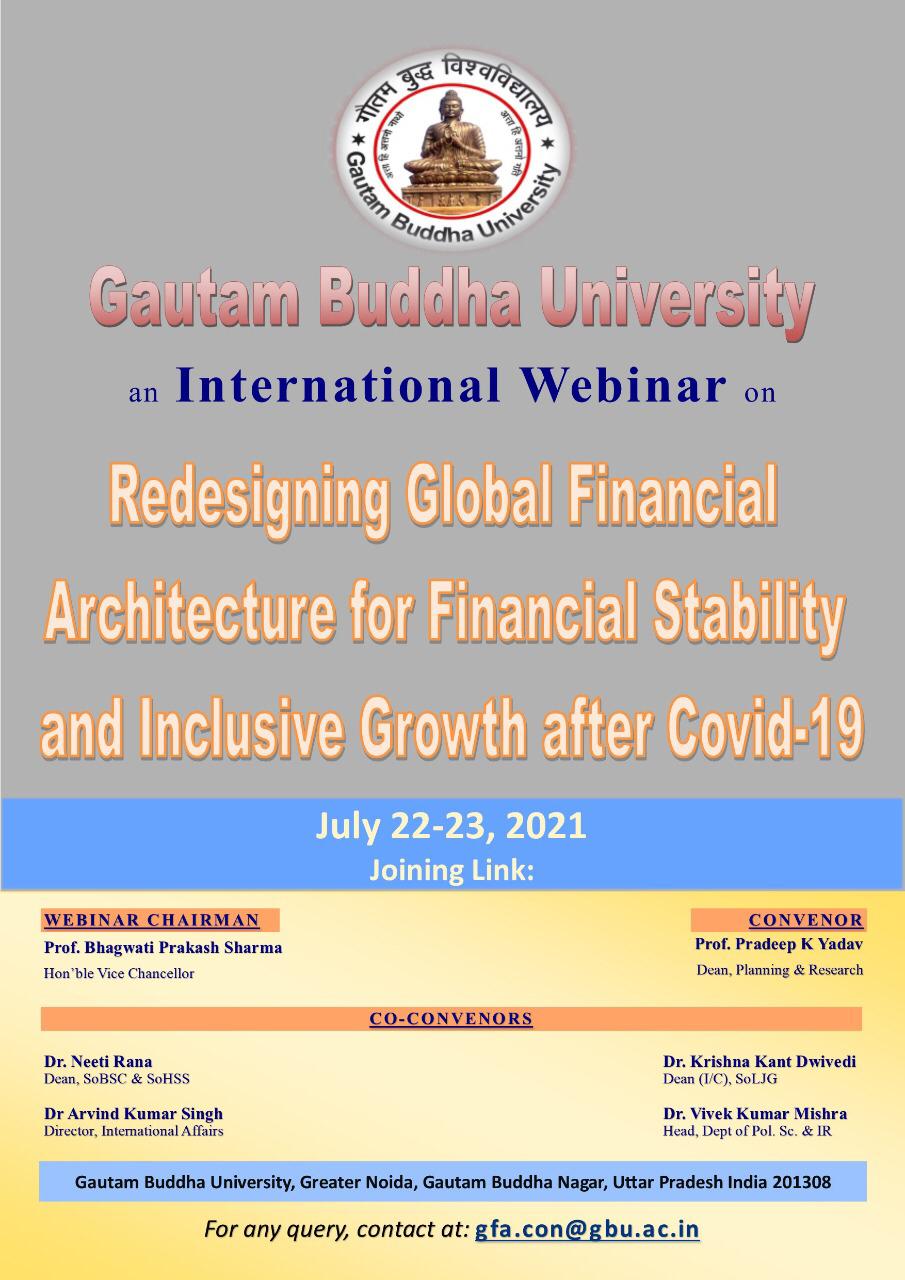 Download Links:
Information Brochure
Registration Links:
Register Here
International Webinar on Redesigning Global Financial Architecture for Financial Stability and inclusive growth after Covid-19
31-07-2021
International Webinar on Redesigning the Global Financial Architecture for Financial Stability and Inclusive Growth
Prof. Bhagwati Prakash Sharma*
:: Background Note::
The present day global financial architecture has begun to take its shape since 1940s, when the International Monetary Fund and World Bank, popularly called as Bretton Woods Institutes were established in 1944. The two need complete restructuring and revamp with the change of global economic scenario. The World Trade Organisation (WTO) is in doldrums since 1999 and is marred by disputes and discords. Consensus is eluding on most of the issues ever since its establishment in 1995. The US has even brought the WTO's Dispute Settlement Body in complete disarray since 2019. It has enabled many countries to regain some degree of internal autonomy from the influence of GATT, TRIMS AOA and many other multilateral trade agreements of the WTO. The basic premise of its creation, the most favored nation (MFN) clause has become almost redundant in the wake of several hundred free trade agreements signed so far. The Basel iii recommendations are also lacking support of nations and the Financial Stability Board too needs to be made effective to take due cognizance of the post pandemic global needs of revival and balanced recovery from the ongoing economic plight. So, redesign of major components of Global Financial Architecture including the IMF, World Bank, WTO etc. has become imperative, when most of the economics across the world have been experiencing unprecedented contraction, job losses, decline in incomes of individuals and firms, along with the plummeting public revenues. Balanced economic recovery across the globe with inclusive growth is need of the hour. So, the global financial architecture needs take care of and create right kind of ecosystem. This proposed webinar aims at initiating debate on how to redesign and restructure the global financial architecture for evolving the right kind of ecosystem for restoring growth and a balanced recovery. The webinar has the following 3 tracks viz.
1. Restructuring and Redefining the Role of Bretton Woods Institutes for Restoring Growth with Inclusion
2. Revisiting Trade and Investments Regime for Country Specific Capacity Building
3. Policy and Institutional Interventions for Balanced Recovery Across the Globe